The word 'epic' hardly does Alaska justice. Bursting with all marvels of nature, from glaciers and fjords, mountains, and lakes, rivers, and waterways that are beyond your imagination. One of the loveliest towns of Alaska is Ketchikan. It sits facing the world-famous Inside Passage. It is a very popular cruise stop and worth exploring.
The scenery around Ketchikan is so jaw-dropping and majestic. Ketchikan is surrounded by forested slopes behind her and in front of her lies the Tongass Narrows the very busy and picturesque waterway that brings visitors to Ketchikan. Nestled between the mountains and the sea Anchorage is one of the most prominent towns in Alaska.
It is the largest of towns with lots of big-city amenities. One of the things that makes Anchorage one of the most charming towns in Alaska is her mountainous backdrops. They are often so spectacular they look like a painting or a postcard!
Prepare for an overwhelming unforgettable vista once you arrive at the port town of Seward, Alaska. It is considered the gateway to Kenai Fjords National Park. Here you will witness where the Harding Icefield glaciers spill out into coastal fjords and into Resurrection Bay. And imagine that all of this spectacular beauty is embraced by snow-capped mountains.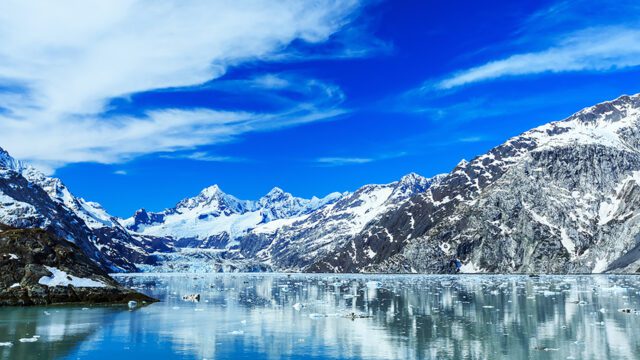 One of the perks of cruising! You cannot get to Juneau by driving. Located in southeast Alaska nestled in between the mountains and the sea, most tourists arrive in Juneau via their cruise ship.
Having the majestic mountains right next to the sea is a beautiful vista you will never forget. Due to its remote and rugged nature, there are a lot of outdoor activities to choose from in Juneau. Visit the famous Mendhall Glacier and the ice caves are located in Mendenhall Valley. Located in southeast Alaska, we find Skagway along the extremely popular Inside Passage cruise route.
One of the most popular spots here is the White Pass and Yukon Railroad tour. The narrow-gauge railroad, oftentimes with glass-domed ceilings will offer you unparalleled views of Alaska.
The choice of cruises to Alaska is endless, with the majority departing from Seattle or Vancouver. It always recommended to spend a couple of days in the embarkation port before or after your cruise, after all who wouldn't want to roam the cities with spectacular views of the city's skyline.