No doubt, if it's your first visit to the northern area of the United States and Canada, it's likely you'll be visiting everyone's favourites and famous places such as New York City, Niagara Falls and Washington DC, which are all incredible places to experience but there is so much to discover.
From red-brick, and Victorian buildings to pastel waterfront houses, art galleries and gourmet restaurants Charlottetown might be Prince Edward Island's capital, but with a population of 35,000 it still has the friendly feel of a small town. View rolling farmlands, stunning seascapes, tiny villages and bustling harbours. One can't miss Victoria Row, a charming area with cobblestone streets lined with historic buildings!
Canada's original city, Saint John, New Brunswick today one can wander past beautifully preserved redbrick and sandstone 19th-century architecture. Visit the Reversing falls, here the river runs through a narrow gorge before emptying into the Bay of Fundy; one of the 7 wonders of North America with the highest tides on earth, the rarest whales in the world, semi-precious minerals and dinosaur fossils.
With its candy-striped lighthouses, fishing towns and soaring red cliffs, Nova Scotia is heavily influenced by the sea. Explore Halifax and the vibrant fishing village Peggy's cove. Take a picturesque tour to Cape Breton Island, where you'll see some of the Island's most dynamic scenery and touch the shores of the famous Bras d'Or Lakes.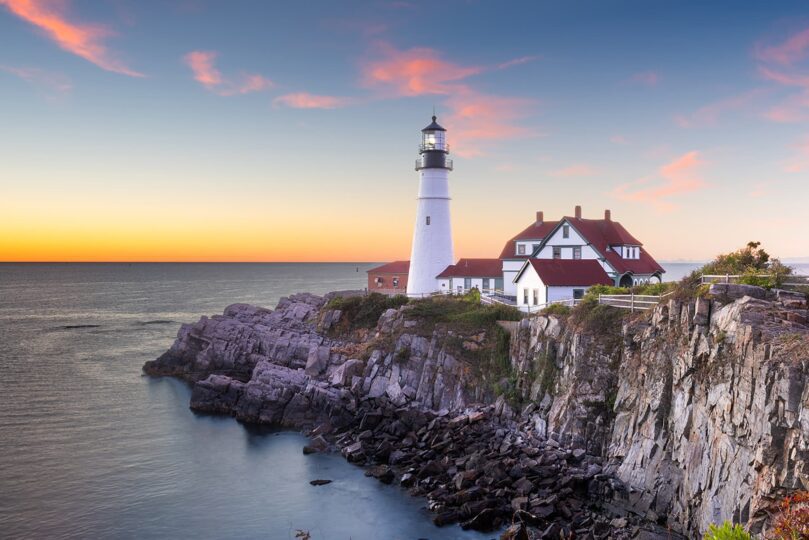 Known for the world-famous Château Frontenac, Québec City is also famous for its rich history, cobblestone streets, European architecture and fortifications. Spend time in Petit-Champlain, enjoy one of the oldest shopping streets in North America and experience Québec City's heritage through its basilicas and churches, visits to the Plains of Abraham, the fortifications and the Citadel.
While in Québec head to Saguenay known for Saguenay Fjord, which leads to the St. Lawrence River and the Gaspe Peninsula known as one of the world's most beautiful destinations and embrace the diverse landscape here, from stunning national parks, mountains and meadows to rugged cliffs facing the Atlantic coast, packed with wildlife habitats.
On the coast of Maine, Portland is known for its lobster, poetic harbours and lighthouses offering a wide array of activities.
Head to downtown Portland and admire all the New England architecture and the eastern promenade, a breath-taking coastal train built along an old rail corridor offering beautiful views of the harbour and Casco bay. Best known for its proximity to Acadia National Park, Bar Harbour Maine scenic views of the mountains and coastline will make you wish to stay in Maine forever.
To reach the lands of quaint towns and picturesque harbours and lighthouses; cruising Canada and New England is definitely the best way to go! Get the most of your trip by doing a pre-cruise stopover with sailings often starting from New York, Boston or Vancouver gives you a chance to experience the big city life in Times Square, see the city of revolution where the famous Boston Tea party took place or roam the ocean-fringed metropolis of Vancouver.