Vibrant buildings, latin dancing, an explosion of culinary flavours, vast rainforests and white sand beaches will have you hooked for a lifetime the moment you reach the shores of Central and South America. Spots like Honduras, Aruba and Cabo San Lucas surely need no introduction, renowned as some of the most popular tourist destination around the globe boasting stunning white-sand beaches, water-based activities and nightlife that dominate the serene crystal-waters.
Travel back in time in Cuba and feel as if you've been transported back to the 1950s. With classic convertibles lining the streets, crumbling Spanish facades, and live street music on every corner. Cuba has a rich intriguing history, El Capitolio, is a grandiose building in the heart of Havana and don't forget to stroll the many winding streets just taking in the beauty of Old Havana. Cuba is a country of indescribable magic!
One of the world most captivating countries, Brazil is ineffable. Rhythm-filled metropolis in the heart of cities like Sao Paulo and Rio home to the famous Cristo Redentor, Sugarloaf rock peak and Copacabana; where the beach is separated from the buildings and traffic by a broad promenade paved in black and white mosaic in a rippling pattern.
The lush Amazon rainforests such as the Anavilhanas Islands that form an archipelago with lakes, streams, and flooded forests. For wildlife enthusiasts this is a haven as by taking a boat trip here you can see monkeys, parrots, toucans, caimans, turtles among other wildlife. Brazil is both a tropical paradise and an exciting cultural destination with attractions for everyone, from idyllic beach holidays and jungle explorations to fine art museums and the famous Rio's Carnival.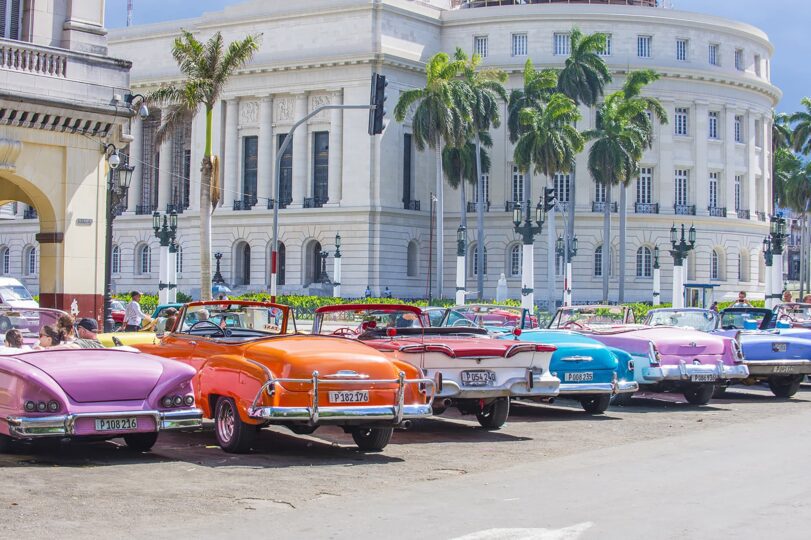 At the point where Brazil, Paraguay, and Argentina meet, the Iguaçu river drops spectacularly in a semicircle of 247 waterfalls that thunder down into the gorge below. Some of the falls are more than 100 meters high and they cover such a broad area that you'll never see all of them at once, but you do get the broadest panorama from the Brazilian side. One bridge reaches all the way to one of the largest, known as the Garganta do Diabo.
Colourful houses and tree-lined avenues; Buenos Aires is a city that truly captures the hearts. A big cosmopolitan capital city where in the heart you can find Plaza de Mayo, lined with stately 19th-century buildings including Casa Rosada, the iconic, balconied presidential palace. Walk around some of the most famous sights of the city, such as Recoleta neighbourhood and La Boca where you can stroll along El Caminito, a cobblestone street full of expressive brightly coloured buildings. And if you would like to know what it feels like to be at the 'end of the world' visit Ushuaia, Argentina and see Andean Condors and the rugged beauty of Tierra del Fuego National Park. Ushuaia is one of two main cities on the island territory of Tierra del Fuego.
Cruise one of the world's greatest marvels, the Panama Canal stretches 80km from Panama City on the Pacific side to Colón on the Atlantic side. Panama is a little country full of history, wildlife, culture, tropical beaches. Many of the Panama Canal cruises also include Cartagena; a colonial city on Colombia's Caribbean coast. The historic walled city remains alongside the ultramodern skyscraper-filled Bocagrande. Cartagena is famous for its castles, culture, history and colourful buildings
With so much to see and so many compelling countries in this vast region, you'll be spoilt for choice. Departures vary from Los Angeles, San Diego, Rio, Buenos Aeries, Miami and New York. Here you can spend some time prior to your cruise and roam your favourite city before boarding the ship of your dreams. All you have to decide is which part of this indescribable continent you want to roam to!